Learn how to serve as a Fractional CFO to multiple clients.
Serving as a Fractional CFO is the most exciting career in finance and consulting.  But serving as a Fractional CFO is different than serving as a full-time Chief Financial Officer and requires additional skills and an understanding of what is most important to each client.  Our current education system does not prepare us for this career.  So we have designed a course called "Accelerated Advisor" to help you prepare for your new career.  The program is a virtual training curriculum over 90 days taught by experienced Fractional CFO's where we prepare you to close and serve clients.  Avoid the steep learning curve and let us prepare you to jump start your career.
In Accelerated Advisor we focus on the following four areas of a Fractional CFO career.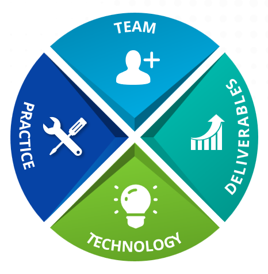 QUALITIES OF A FRACTIONAL CFO
So what does it take to be a successful Fractional CFO?  While no two Fractional CFO's are alike and there are a variety of personalities and skill sets that lead to success, we have found a number of qualities that make for a great Fractional CFO.  The following describes many of those qualities…
Successful Fractional CFO's have the ability to provide strategic guidance but also have a willingness and ability to get into the details of the accounting. They build trust with clients, team members and advisors and influence those they work with. They care about others and seek to build those they interact with including team members and the clients they serve. They ask the right questions and get to core issues and principles. They are great listeners and they are curious and interested in others. They are students of business structures, methodologies and entrepreneurs. They are skilled in the use of technology and study new technologies. They have confidence to propose solutions, ideas, fee structures and proposals. They read financial statements in a way that tells the correct story and leads to better decision marking. They are open to new ideas and challenging the way things have always been done. They have the ability to discern what is most important and when the priorities change. They are proactive and have the ability to see the issues before they become problems. They have the ability to develop business relationships. Finally, they understand the value of serving multiple clients, not being tied to one company, taking charge of their own future and controlling their own success.
There are also several qualities that vary between successful Fractional CFO's including educational backgrounds, licenses, specific industry experience and previous titles and positions.  We have found a variety of successful educational backgrounds including accounting, finance, MBA's and economics.  Some have licenses and designations, including a CPA license, while others do not.  The industry experience varies greatly from one successful Fractional CFO to another and great CFO's network with others as they enter into new industries.  Is it a requirement that someone has held the title of CFO in a previous company?  The surprising answer is no. While that is helpful and may determine the types of clients a Fractional CFO may serve, it is not required to have held that position.  We have found the roles of Controller, Director of Finance, Consultant and Entrepreneur may also lead well into the role of a Fractional CFO.
Do you need all of the qualities above to be successful as a Fractional CFO.  Of course not.  But you must be a people person, have great communication skills and a desire to develop the qualities listed above.  Like everything that is worthwhile, it takes time to develop into a great Fractional CFO.
Interested in jump starting your career as a Fractional CFO through our Accelerated Advisor training? Contact us at info@companyvitals.com or complete the form below.
The quickest way to reach us is through email.  Please email us or complete the form and submit.  Type "Interested in Accelerated Advisor" in the Subject line of your email.  We will get back to you shortly.